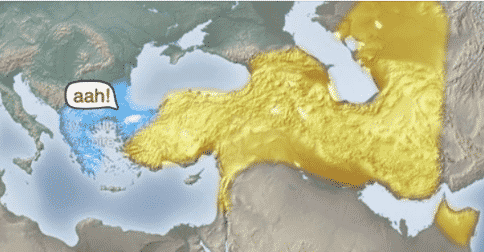 My Favorite Bit this week was about the history of the world from the big bang through the 2010s. In a spellbinding animated video, Bill Wurtz, amusingly narrates the history of the universe from before the big bang to the creation of matter, the stars, and the earth and through the evolution of animals and humans, before detailing the rise and fall of the dozens of civilizations and empires that have ruled different parts of the world. You will learn a lot without being bored for a second.
Technology companies are continuing to develop creepy new ways to track your every movement; Facebook alone has filed for thousands of technology patents since its inception including dozens that focus on suggesting new friends to you based on processes like comparing if photos you and a friend upload were taken by the same camera. In our Weekend Bits from last weekend we took a look at the potential dangers that artificial intelligence poses to humanity. One game provides a salient example of how an artificial superintelligence could destroy the world by illustrating what would happen if it decided to focus all of the planet's resources on the task of making paper clips. There are also a variety of Legal questions that need to be sorted out regarding the rights and responsibilities of artificial intelligence and the the things it creates. For example, do AI-powered robots deserve free speech rights?
With Income and Wealth Inequality in the United States at levels not seen since the 1920s, child care continues to be a huge cost for families. The Gma Village team is working to provide a solution for families by pairing retired grandmothers with parents in need of affordable childcare. The grandmas often have experience in childcare and are excited to be able to offer their services at below market rates to help families in need. Innovative solutions like this are needed around the United States, particularly in "the 'colonias' of the American Southwest" where hundreds of thousands of U.S. citizens continue to live without basic infrastructural needs like running water, sewage, and electricity.
Health researchers have "discovered a major cause of dementia" by identifying the role that excessive urea in the brain plays in causing the disease. Elsewhere in Science, physicists continue to look for a unified theory of everything that uses one set of equations to describe the entire universe. The best idea so far is called "string theory (or, more technically, M-theory)" which posits that all matter is actually "tiny ribbons of energy, or 'strings'."
A Hodgepodge of articles takes a look at how Vladimir Putin has created what is effectively a mafia state within his totalitarian regime, what happened when Rhode Island accidentally legalized prostitution for six years, how technology is transforming university education, and the way that your personality and actions are driven by unconscious brain processes that happen more quickly than your thoughts.
Finishing off your week in review is an ode to Photojournalism which discusses the importance of professional photography in providing compelling images of crises around the world.
Thanks for reading the email; if you found one of these Bits cool why don't you share it with a friend? We appreciate your support and as always, Contact Us online or send us an email at [email protected].
Have a great rest of your week!
Sign Up To Receive BogelBits Updates In Your Inbox Every Thursday