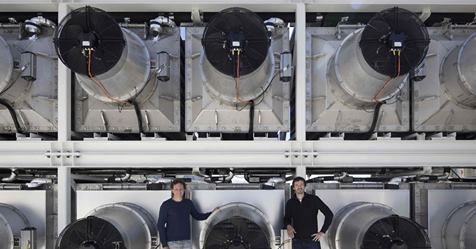 My Favorite Bit this week was about the world's first "negative emissions" plant. Located in Iceland, the power plant uses the naturally occurring heat from volcanic activity to pump water past turbines and generate electricity. The power plant then pumps the carbon dioxide underground allowing it to be absorbed by the water before mixing with the basalt rock where it is trapped underground. Pumping excess carbon dioxide from the surface into the system allows for a net reduction of carbon dioxide in the atmosphere.
In the world of social science, linguists are working to recover and restore hundred-year old recordings of languages from the Pacific Northwest that were recorded on wax cylinders and are slowly deteriorating as they age. In the United States happiness and positivity are seen as virtues which means that people can have a hard time accepting when they feel unhappy; however, some experts feel that acceptance of these negative emotions is an important part of long term mental health. Emotional intelligence tests can be a helpful tool to assess your own personality and highlight areas for building resiliency.
The study of philosophy was traditionally concerned with who we are and how we should live before undergoing a transformation during the 20th century into a formal social science divorced from everyday concerns.
Parenting is an emotionally charged experience as one new parent notes the way that his child's birth has both expanded his ability to feel empathy, while concentrating all of his concern on his new child. Worrying about your child's well being can be an even more difficult task when society is actively oppressing them; children in low income families suffer from believing the idea that society is fair because it makes them feel culpable for their own challenging life circumstances.
Two common reasons for practicing veganism are the suffering that it causes the animal and the damage it does to the environment, but there is one animal, the Oyster, that can be grown ethically with minimal environmental impact.
In society's weekly reckoning with the culture of sexual assault it is important to understand false rape accusations, and the fact that they are incredibly rare; reporting sexual assault is an onerous process for the victims so "if a woman without any history of dramatic falsehoods says she went home with a man and, after they'd kissed a while consensually, he held her down and forced her into sex—in the absence of compelling evidence to the contrary, you can just assume it's true." On the other hand, men need to reckon with the the role they play in perpetuity a culture that denigrates women by actively taking steps to change their behavior and influence other men to do the same.
On the topic of sex positivity, dating apps have accelerated the ability for people to find sexual partners online and this has led to an increase in the transmission of sexually transmitted diseases. While it is important to be careful when engaging in casual sexual encounters, this sort of behavior is nothing new for humans as researchers speculate that sharing sexual partners was a prominent feature of early human societies.
Finishing off your week in review is a photo collection of the many face of hunger in New York City.
Thanks for reading the email; if you found one of these Bits cool why don't you share it with a friend? We appreciate your support and as always, Contact Us online or send us an email at [email protected].
Have a great rest of your week!
Sign Up To Receive BogelBits Updates In Your Inbox Every Wednesday